Frequently Asked Questions
How do I know if a template looks good on a mobile device?
Article: 000004906 Product: Email Marketing
Mobile-friendly email templates
An increasing number of people are reading their emails on smartphones and tablets, but emails designed for a desktop or laptop don't always look their best on a mobile device. We've designed our mobile-friendly templates so that links will be easy to open with the tap of a finger and images won't stretch out when a mobile display is viewed horizontally or vertically.

Look for the mobile-friendly indicator

 to ensure that your email will render well on mobile devices.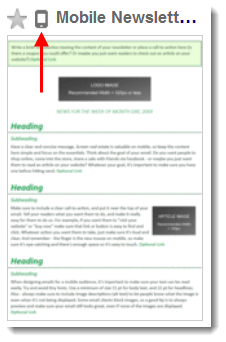 Note: All of our mobile-friendly templates can be found in the Type section when selecting a template, just click the "Show More" link.

Not sure when to use a mobile-friendly template? Take a look at our best practices for designing email campaigns for mobile devices.
---
---
---