Frequently Asked Questions
Identify web-safe and non-standard fonts while creating an email
Article: 000003288 Product: All
Web-safe font style selections in emails
When you select a font for your email, event-related emails and landing page, or survey and invitation, you can choose from a variety of web-safe and non-standard fonts. We recommend using web-safe fonts because they have the highest likelihood of rendering consistently on your contacts' computers.
Tip: For best results don't use more than two different fonts in your email to avoid spam filters.
---
Web-safe Vs. Non-standard Fonts
When you view an email on your computer or mobile device, your browser is reading code that tells it which font to display.  If the font isn't available on your computer or device, your browser substitutes the font for one that is available, which can make your email design look different than you intended it to.
Web-safe fonts have the highest likelihood of being installed on the broadest array of computers and devices and are therefore less likely to impact your email design.
The following fonts are considered web-safe:
Arial

Comic Sans MS

Courier New  

Georgia

Lucida Sans Unicode

Tahoma

Times New Roman

Trebuchet MS

Verdana
If your font doesn't appear on the above list, it is considered to be non-standard. 
If  you choose to use a non-standard font, you do have some control over which font will be displayed in its place. By editing the Style Sheet in your email, you can update the font property to specify which web-safe font to display as the backup font for your email. 
Example: If you choose the Palatino font, computers that don't have Palatino font installed may automatically display the Arial font instead. By editing the code, you can tell it to render the Times New Roman font next instead.                  
Recognize Web-safe Fonts in the Menu
Most text editors make it easy to tell which font options are web-safe. 
When you click the Font Style drop-down menu, the web-safe fonts appear above the word "Other".  To see the available non-standard fonts, just place your cursor over the "Other" option.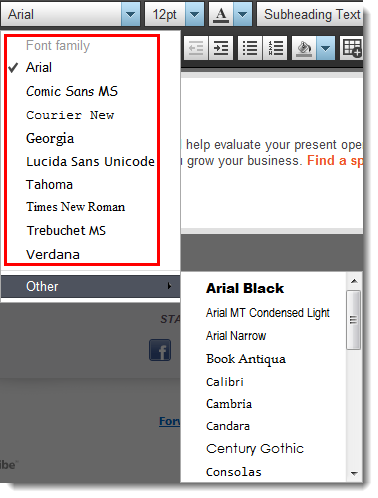 Note: Font selection menus only list fonts that are on your computer. If you can't find a font you selected in the past, it is probably not installed on your computer, but you can still add it to your email using HTML.
Any links we provide from non-Constant Contact sites or information about non-Constant Contact products or services are provided as a courtesy and should not be construed as an endorsement by Constant Contact.
---
---
---