Frequently Asked Questions
Whether you're test driving our products, getting started with your marketing efforts or taking them to the next level, we've got the answers to your questions.
Back to Search Results
What should I know when selecting a font?
Article: 000003288 Product: All
Font style selections in Constant Contact products
When you customize the font style in Constant Contact products, you can choose from a variety of web-safe and non-standard fonts. We recommend using web-safe fonts because they have the highest likelihood of rendering properly on readers' computers.

Some non-standard fonts may not be on your readers' computers and, therefore, may cause display issues. If a reader's computer can't display your chosen font, the back-up font available will display instead. 

Font selection menus only list fonts that are on your computer. If you can't find a font you selected in the past, it is probably not installed on your computer.

Arial

Comic Sans MS

Courier New  

Georgia

Lucida Sans Unicode

Tahoma

Times New Roman

Trebuchet MS

Verdana
In most font selection menus, web-safe fonts are those listed
above
the word "Other". See screenshot
below
.  
Other Fonts
If you customize your text with a font style that isn't web-safe, some computers may not be able to display your chosen font. If this happens, your text will appear in a designated back-up font.

Example: If you choose a Palatino font, computers that don't have Palatino font installed may display Arial font instead.

Don't see the font you want to use? If you know code, add a new font manually through Code View or the Style Sheet. However, the text editor's font selection menu will not update to list the new font.                    
Recognize Web-Safe Fonts in the Menu
Most text editors make it easy to tell which font options are web-safe. 
Web-safe fonts appear above the word "Other" in the list.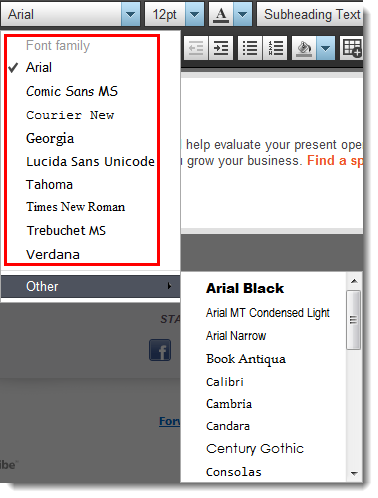 Note: Don't see the word "Other" in a font menu? Please refer to the web-safe fonts list above to find out if the font you like is web-safe.