Frequently Asked Questions
What is the sign-up form and how do I edit it?
Article: 000001557 Product: All
A sign-up form displays to all potential subscribers who click on your Constant Contact sign-up link. That form allows subscribers to do everything from choose email lists to join or provide information about themselves. You can control your signup form's appearance, information fields, and list options.
---
Example of a Sign-Up Form
This is what a your form may look like once you edit it to include your own text, list names, custom fields, colors, and logo.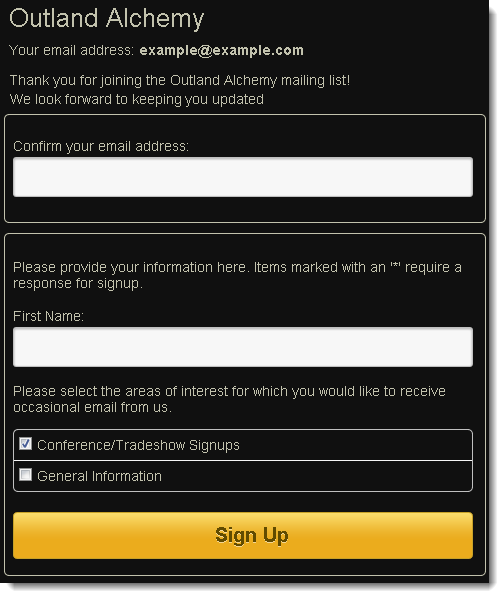 Back to Top
Edit Your Form
You can change the image, colors, information fields, and contact lists on your form hosted with Constant Contact. To host an even more customized form on your website, tell your web developer about Constant Contact's APIs.
After logging into Constant Contact, click Contacts > Sign-Up Tools.
Click the name of the form you want to customize.
Navigate through the form to edit things like:
To preview any of your changes, click the 

Preview Form

at the bottom of the page.
If needed, click Continue to travel through any remaining tabs.
Click Finish.
Next Steps
After editing your form, try these next steps:
Create a Link or Button - Create a sign-up link or button to lead new contacts to the signup form you just edited.

Review Your Welcome Email

 - Contacts who sign up through your form will automatically receive your Welcome Email automatically. Keep in mind, that you can also turn it off.
Take It to the Next Level
Ready to scale your list building efforts up a notch? Get tips and tools to:
---
---
---